3 Reasons for Growing Popularity of PBT Granules
Why Do Companies Prefer to Buy PBT Granules?
We live in a world where plastic has become a common material. Today, you can find plenty of products made from plastics. However, over the years, new plastics have evolved which has changed the way many production companies function. These newer plastics offer more features and benefits that allow production firms to manage their production process in a better way. PBT or polybutylene terephthalate is a synthetic, semi-crystalline engineered thermoplastic which has become quite common today. These PBT granules share various characteristics which are common to thermoplastic polyesters. However, they are more used in food processing machinery components.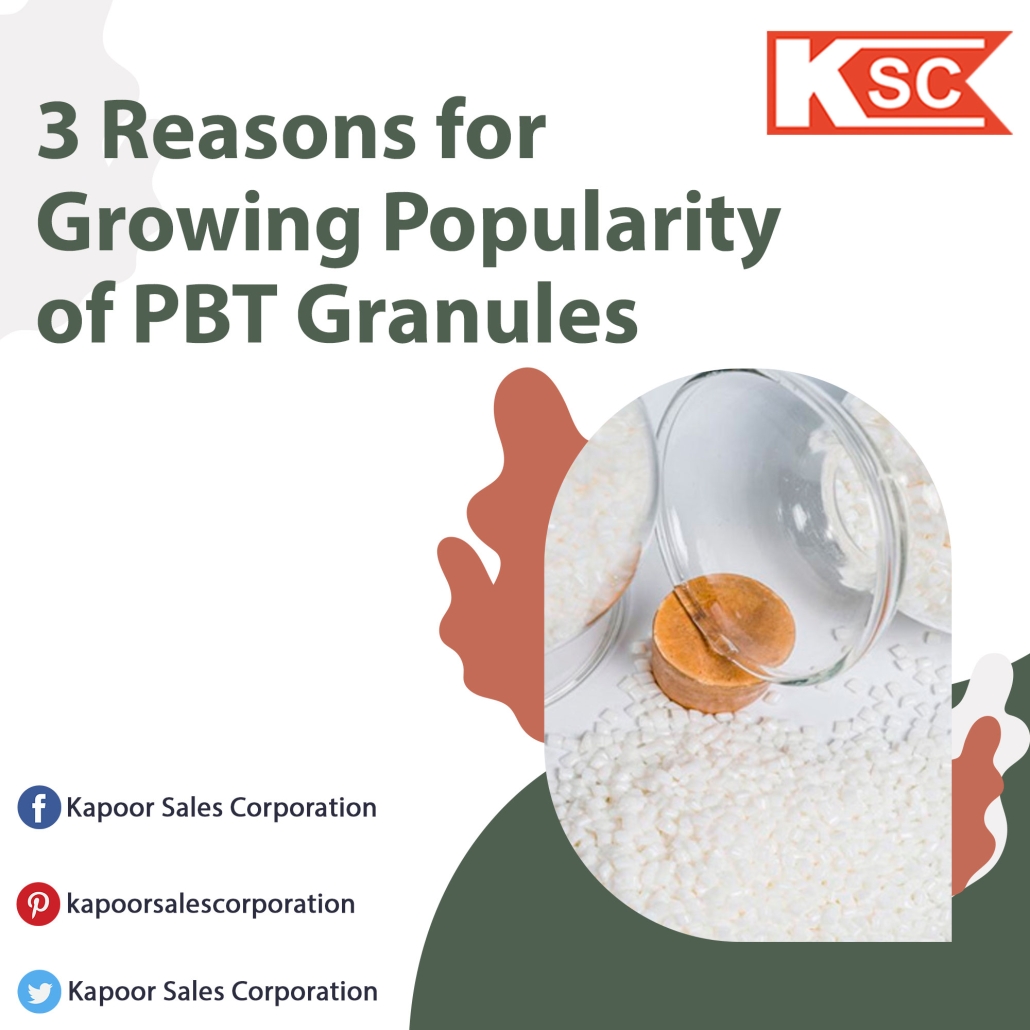 PBT Granules are Durable
One of the reasons why many production companies that manufacture food processing machinery prefer PBT is because it is tough and durable. Hence, many companies that manufacture food processing machines like mixers and grinders prefer to make use of tough PBT materials like VALOX™ 420 (30% GR, natural, black and other opaque colors). This makes it easier for the companies to come up with better products which are tough and durable for handling work in the kitchen area.
PBT Granules are Stain Resistant
Secondly, these granules are stain resistant and therefore they are ideal for food processing equipment and machines. Many companies that manufacture grinders and food processors choose to make use of VALOX™ 325 (Unfilled, natural, black and other opaque colors), which can ensure that there are no stains on the product. This is important for most food-related equipment because the machines must not absorb flavour or colours. You can look for the best Valox PBT granule to help you with the production process.
PBT Granules Are Available in Grades
One of the strongest points of PBT granules is that they come in grades. Hence, you can always look for the right PBT suppliers to help you choose the right granules you can find. With this, you can ensure that you can make the most of the options you have. Different suppliers and manufacturers can provide you with different quotes for different grades that they offer. Hence, you can evaluate the choices you have before you decide what you want for your production process.
Conclusion
With plenty of new features and benefits, PBT has become the popular choice for many production companies that make food-industry products from PBT granules. This is because these granules are tough and they offer better stain resistance than any other granules. Also, they are available in different grades and offer better insulation.
About the Author:
The author is one of the leading suppliers and manufacturers of PBT granules in India and can provide you with the best deals in the country.
Source: https://www.linkedin.com/pulse/3-reasons-growing-popularity-pbt-granules-kapoor-sales-corporation/
https://timtoo.com/wp-content/uploads/2023/06/feature-img.jpg
321
845
Sagar Kapoor
https://timtoo.com/wp-content/uploads/2020/07/tim-too.png
Sagar Kapoor
2023-06-16 06:38:56
2023-06-16 06:38:57
3 Reasons for Growing Popularity of PBT Granules